Mia served as a panelist alongside former NH staff member Asma at this year's Women's Convention, with Race Forward and NYU Metro Center in Houston. Read her reflections. 
---
Alison caught up with RAD leaders Jubilee and Teddy on Vermont Primary Day.
---
On International Overdose Awareness Day (IOAD), our bistate Overdose Crisis organizer Jodi shared her story and joined calls for elected officials to expand harm reduction.
Tanya published an op-ed in VT Digger on the urgent need for equity in our public education system.
---
Vermont staff joined this year's RDI Catalyst Leadership cohort in Pittsburgh for the Netroots Nation convention and caught a selfie with Rep. Summer Lee. Stay tuned for more reflections coming from the participants in this program hosted by our sister organization!
Rights & Democracy:
Sun, Sept 25th, 1pm, NEK Transportation Forum, RSVP
Partners:
Sat, Sept 10th, 10:30am, Burlington For Reproductive Justice: Coalition For Abortion, RSVP
Wed, Sept 14th, 7:30pm, Medication Abortion: What It Is, Why It's Safe, and Its Role in Abortion Access & Care After Roe, RSVP
Sat, Oct 8th and Sun, Oct 9th, 10am, Vermont Workplace Organizer Training, RSVP
Check out upcoming events with our partners at Renew U.S.
---

Need to update your RAD contribution or contact information? Use our self-service portal!
SEPTEMBER 2022
Dear friend,
Between Vermont's primaries, hosting community forums, and deepening our issue organizing and leadership development, summer has flown by!
As we head into September, we look forward to re-grounding and preparing to grow our movement power through November and beyond so that we can shift the political landscape and win the changes our communities need — from housing to public education.
We need you alongside us in this work. One key way you can get involved right now is to join RAD at our 2022 People Power Summit on September 24th in Hartford, VT for a day of visioning, skill-building, and relationship-building.
When every day people come together, we can win the change we need and overcome elite attempts to retain power and wealth by using racism and fear to divide us. Will you join us?
In solidarity and care,
Ana Mejia
Vermont Organizing Director
---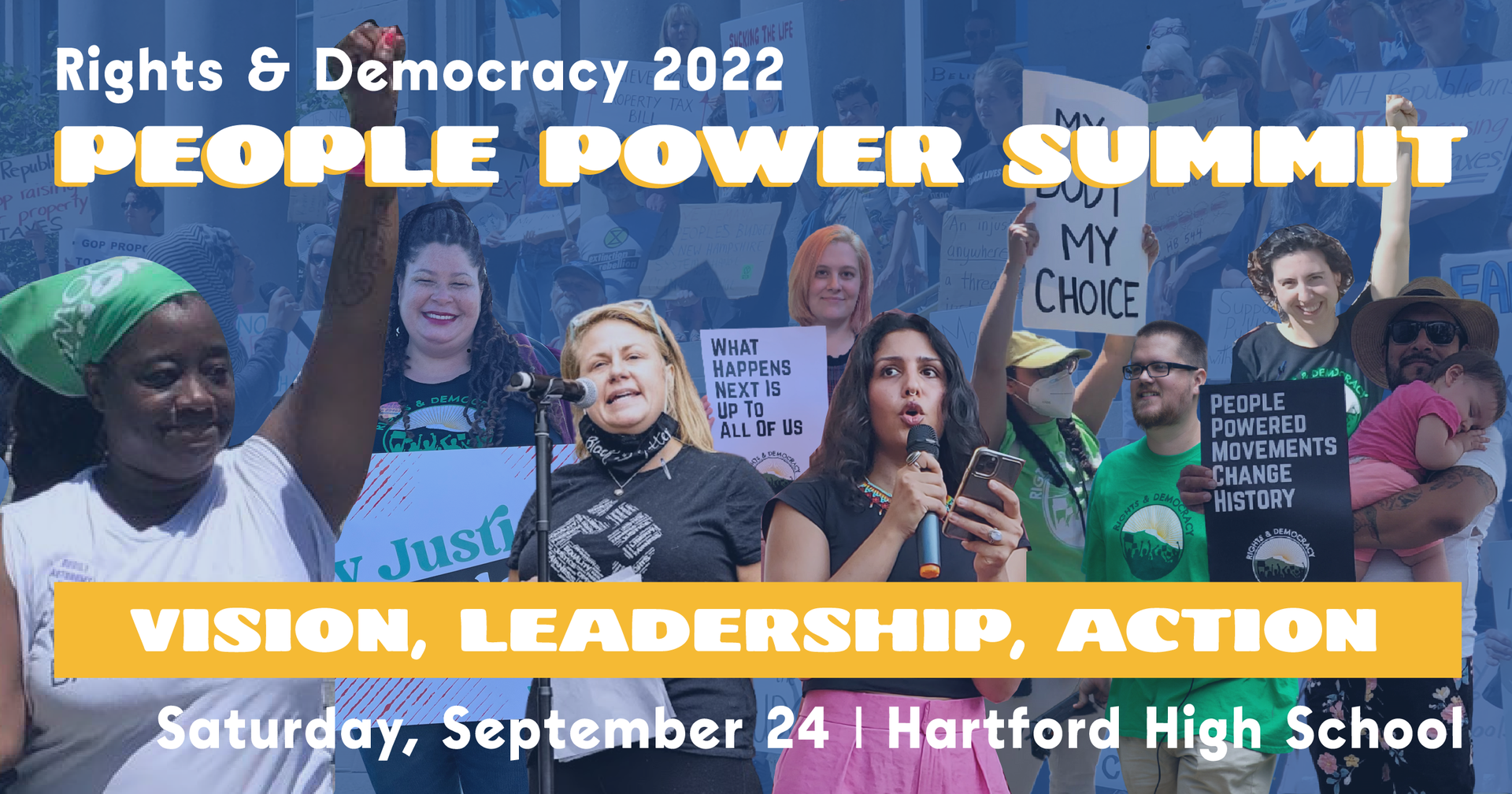 It takes sustained energy to fight for a future where all of us — across race, gender, and geography — can lead happy, healthy, and dignified lives. How do we build our momentum across New Hampshire and Vermont and move forward together right now?
Join RAD at our People Power Summit as we talk through our shared vision, lift up primary victories for movement candidates, share information about our ongoing campaigns, and build our skills, from canvassing to story-sharing. The event will feature a special keynote conversation with activist, lawyer, and author Alexander Polikoff, whose groundbreaking work has hugely influenced housing desegregation in the U.S.
RSVP so we know you'll be there, virtually or in person at Hartford High School on September 24th!
---

On Vermont's Primary Day, we were thrilled that 48 of our 55 endorsed candidates won their primary and will be on our ballots in November! See the full slate of RAD-endorsed Vermont Primary winners.
As we look ahead, you can still sign up to volunteer in the lead-up to the elections, and you'll have an opportunity to hear more about our movement politics work at the upcoming People Power Summit!
---

Hi everyone! I'm Michael Weiss, Rights & Democracy's Environmental Justice Organizer in Vermont. Currently, I am working on a community engagement project with state agencies to ensure that the state addresses environmental justice issues in a way that prioritizes equity, by benefiting and centering the voices of those who are most impacted and who have been historically excluded. I am fighting for policies that make the world healthier and safer for all of us.
Fun Fact: I am a proud and patient caretaker for about 10 bonsai trees including azaleas, ficus, juniper, and cherry.
A Favorite Book: Take Back the Economy: An Ethical Guide for Transforming Our Communities
Learn more about RAD's staff, and follow us on Instagram and Facebook for more highlights to come!
Paid for by Rights and Democracy Project, Inc., 70 S. Winooski Ave, Box 205
Burlington, VT 05401. Not authorized, solicited, or facilitated by any candidate or candidate's committee.
Rights and Democracy
70 S. Winooski Ave, Box 205
Burlington, VT 05401
United States