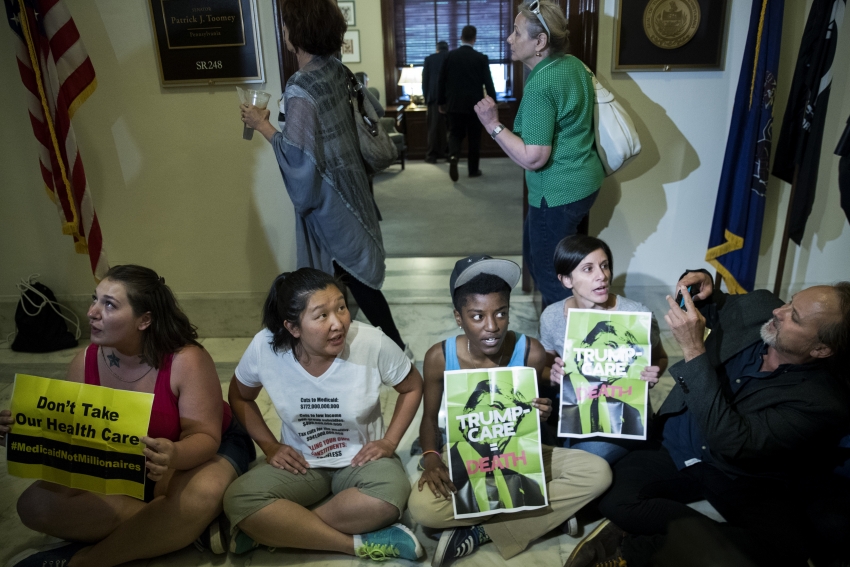 Web Only / Features » August 1, 2017
An Inside Account of How Direct Action Helped Kill the GOP Healthcare Bill
Mari Cordes is a nurse, organizer and House candidate who was arrested multiple times in Washington, D.C. protesting the GOP's Obamacare repeal bill.
By Sarah Jaffe
Welcome to Interviews for Resistance. Since election night 2016, the streets of the United States have rung with resistance. People all over the country have woken up with the conviction that they must do something to fight inequality in all its forms. But many are wondering what it is they can do. In this series, we'll be talking with experienced organizers, troublemakers and thinkers. They'll be sharing their insights on what works, what doesn't, and what has changed, and what's still the same.
Mari Cordes: My name is Mari Cordes. I am a registered nurse of thirty years, all in Vermont. I am a founding board member of Rights and Democracy.
Sarah Jaffe: You were in Washington, D.C., on Thursday when the vote went down for healthcare reform, right?
MC: I have been here since Thursday as a candidate. I am running for the Vermont House of Representatives again in 2018 and I am here for the Progressive Change Campaign Committee's national candidate training. I was selected as one of 300 candidates to attend this amazing training which coincided with more actions by the Center for Popular Democracy and Housing Works in the Senate offices, in the Capitol and at Senators' offices. I was part of the protest and the rally outside of the Capitol building the night the vote came down.
SJ: Tell us a little bit about what that was like, while you were waiting to hear about the vote.
MC: It was an amazing experience to hear, once again, many stories of how everyone would have been impacted by the repeal of the Affordable Care Act, and already how we are already impacted by our elected leaders intentionally doing something that equates to attacking the American people.
We heard so many incredible, painful and heartbreaking stories about friends, people that we know, people that we don't know who would have died and families that would have lost their homes or gone bankrupt. All this in the name of an obsession with an ideology, an obsession with a hatred that a black man was president of the United States and was successful in creating policy that was definitely not perfect, but did help millions of people. It was very powerful to be in that circle and hold a vigil for our country whatever the outcome is going to be.
There was a moment we thought "We are going to lose"—that feeling of hopelessness and despair. Then, a pause and a quiet moment. Ben Wikler delivered the news beautifully. He became really somber. I thought it meant that we had lost, but it created this silent space for us to hear the statement that the vote was "No." I don't think I have ever experienced anything so powerful in my life. It was incredible.
Do you like this post?